Christmas Tree Gifts Christmas Decorations
Regular price
Sale price
$22.99 USD
Unit price
per
New year's most wanted novelty Christmas Decorations. When you turn on the switch, the light is soft and restful. The pine trees and snowflakes under the lamplight are exquisite. They can decorate a home party, little room, office, bedroom, or a kitchen table, and brings the Christmas spirit.
This's a mini Christmas tree in the glass dome. The Xmas trees are mounted on a wooden base. It comes with Christmas ball ornaments, snowflakes, colorful small balls, candy, and led lights. Insert 3 AAA batteries(not included) into the battery box and light up the tree all night.
It's can be used as a night light in your bedroom to make your room feel festive, and maybe Santa Claus will follow the tree's instructions and enter kids' dreams.
This adorable little tree lights up with led lights and the fake snow creates quite an adorable scene. It can be used as the best gift for your kids, friends, and families.
It's an amazing Christmas present too. Every family has a Christmas tree, but no one ever makes a Christmas tree into a beautiful gift. This is the best Christmas idea of the year.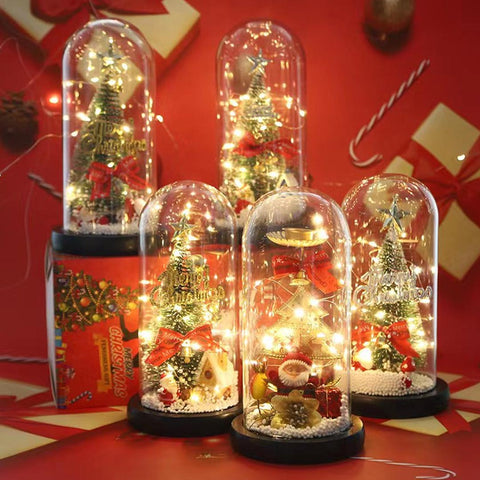 Share